I found two picture of Tiffany pissing in Ibiza. I really love watching the videos of Tiffany desperate and spraying piss and was pleased to find these two pictures. While I find Rebekah from Needapee very sexy I do love to see the few movies that Tiffany has been in. She is just dam hot. I don't know if you have seen the desperation movie of her I posted a few days ago if not check out how desperate to pee Tiffany is in this one she just cant hold her piss, the post can be found clicking here. She is such a wonderful blonde pissing model. You can see all the Needapee videos that she has stared in by clicking here.
I have just noticed to that the latest video at Needapee is a Tiffany release its called Tiffany – TV Sofa Pee and this is what is said about it The queen of nonchalant peeing makes a very welcome return. She recently came to visit for a few days which meant we got up to lots of naughty pee fun. Here she's watching some porn on the TV that she's enjoying so much so that she's not going to let the need to pee get in the way. So she nonchalantly pulls her panties to the side and pees off the edge of the sofa.
All i can say is absolutely wonderful and enjoy The Messy Piss Spray Photos


Filed under: Needapee and Outdoor Pissing and Peeing and Pissing and Public Pissing
Posted on 10.01.07
Comments: None

This is desperation scene is really sexy. Candi is really desperate and wetting on the street with cars passing her. It reminds me of the old Japanese desperation and wetting movies the stream of pee that flows through her panties and onto the ground is stunning. This is really a hot movie right from the start we only join the action with this clip where Candi stops and you can see little drops of pee hit the pavement right up until she finishes wetting and is standing with her skirt over her very wet panties and stockings. The full movie at Ineed2pee is 10 minutes and it does not let you down. Once again Ineed2pee has got the right mix of female desperation and accidental wetting. The producers of I need to pee really have the desperate to pee scene done well. I was watching another desperation movie from the site today. It was Michelle in the scene called desperate to go. Well Michelle really was and the pee starts flowing uncontrollably out of her tight shorts just great.
This is the story from Ineed2pee that goes with the movie
You and the lovely Candi, yes, she's wearing a floral dress with a sweater, sheer nylon pantyhose and a nice cotton full back panty, and even better, she's super desperate to use the toilets so she needs to stop every few steps, bend over and cross her legs gently. She ducks into a very busy downtown alley and tries to look frantically for a place to pull down her panties & pantyhose but its too busy with cars & people going back & forth. Soon enough her overly full bladder can't take it anymore…
Enjoy Candi Desperate And Peeing
To See More From Ineed2pee Click The Banner Below


Filed under: Desperation and Female Desperation and Ineed2pee and Knicker Wetting and Outdoor Pissing and Peeing and Pissing and Public Pissing
Posted on 09.26.07
Comments: 5 Comments

Just a quick post today as a follow on from the last wet post. I noticed a while back I posted a pissing in pants set that I know is real so for those that missed this desperation and pants peeing action Click here to see it. I really do love the expression on Candi's face. I have to admit that she is one of my favorite desperation stars from Ineed2pee she really does have the sweet look and of course the wonderful pee pee dance when she is so desperate to go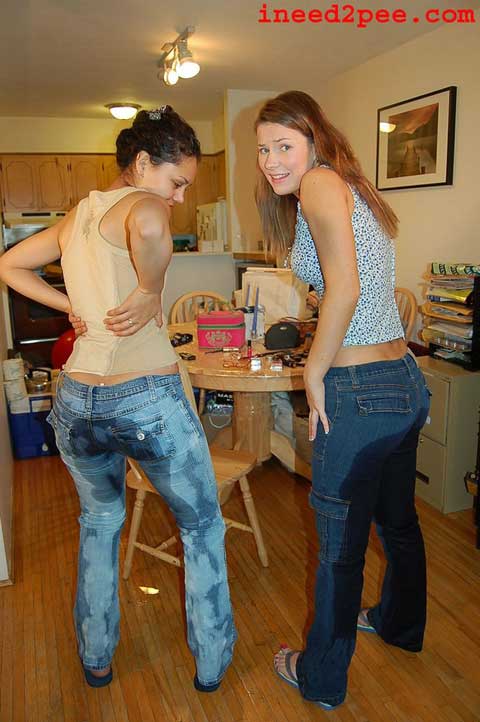 Filed under: Desperation and Ineed2pee and Knicker Wetting and Peeing and Pissing In Pants
Posted on 09.24.07
Comments: None

I'm not sure if these are real pants pissing pictures. If they are it would look like it made them very horny especially the blonde. She looks like she wants to rub her hot piss all over her body. Desperation this is not. All I can say is these peeing pictures look hot and the expressions on the ladies faces as they are standing in there pissed in pants are wonderful. If they are not real its a great shame but I am going to believe that this is real pants wetting for now. I am sure there are videos of this hot peeing scene in the members areas of page3girlspeeing so if any one has joined the site and seen please let us know real or not



Filed under: Babes Peeing and page3girlspeeing and Peeing and Pissing and Pissing In Pants
Posted on 09.22.07
Comments: 4 Comments