The look on female's faces when they are desperate to pee is great and these desperation photos are nothing different. From Needapee, Rebekah is out for a walk and desperate to pee. True female desperation where the hand is jammed into the crotch with the legs crossed to stop and pee trickling out. Look at poor Rebekah so desperate the hand in crotch legs crossed but look at her face she is in agony to pee. Desperation can only last so long and in Rebekah's case it was a losing battle as we can see with her damp knickers pulled to the side and the Piss streaming out Rebekah does female desperation well and at her site Needapee she has lots of videos which have desperation scenes and hot pissing Visit Needapee by clicking here
Enjoy The Female Desperation Pictures


Filed under: Desperation and Needapee and Outdoor Pissing and Peeing
Posted on 08.22.07
Comments: None


Another hottie from pisshunters that is caught peeing . I really love to see these photos, unsuspecting ladies caught pissing in all sorts of places, I have seen some of the Pisshunters pissing videos and they are also wonderful. This time the piss stream is very visible as she is being what I would say is brazen and is pissing in the open. I really enjoyed these piss photos she has such a nice piss stream. It's a pity we couldn't see here face as she pissed though.
Enjoy The Pisshunters Piss Photos


Filed under: Outdoor Pissing and Peeing and PissHunters and Pissing
Posted on 08.21.07
Comments: None

Here are two hotties peeing from in focus girls. The first one is great and im surprised from the filming angle that the camera didn't get pissed squirted all over it. Such pretty ladies peeing for us
Enjoy The InfocusGirls Peeing 1 & 2


Filed under: InFocusGirls and Peeing and Pissing
Posted on 08.20.07
Comments: 11 Comments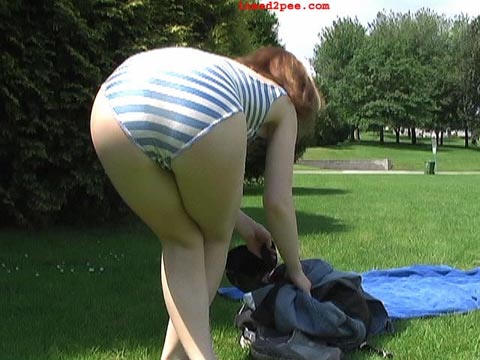 This is a sexy movie from ineed2pee. Alice is so desperate to pee that she pisses in her swimsuit. The hissing her hot pee makes as it comes out of her vagina is great. She actually looks like she has lost control and its not going to plan. This aspect is what makes ineed2pee such a great site the ladies really do get so desperate before they pee. I love seeing the pee unexpectedly escape and create little wet patches you don't quite know how the pee scene will turn out.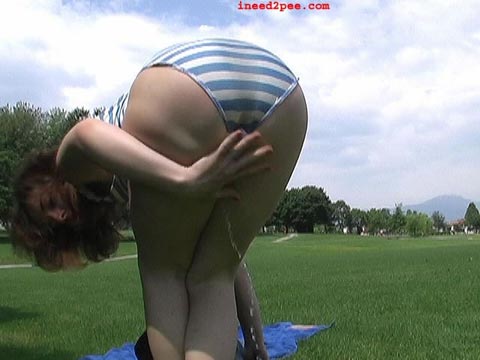 This is the story that was written about the video on the ineed2pee website
It's your first date with this lovely lady, Alice, whom you've communicated with via email on an online dating site. It's a very casual date, just a sunbathe at a public park close by, to chat & get to know each other. She looks amazing in her striped swimsuit as you make casual talk to get to know each other better. Alice seems very fidgety & shy; you realise after she casually asks where the bathrooms are that she must need to pee! You lie & tell her that you have no clue where the bathroom is, even though you know there are some behind the crop of trees close by, but they cannot be seen from where you are sitting. Alice is trying not to look embarrassed or desperate & wanting to make a good impression on you, since it's obvious she likes your company. Finally she suggests we go back to your place or her place not too far off. As she stands up to get her things, she's crossing her legs tightly & bouncing up & down. You're standing behind her gathering your things. You notice that her legs are shaking, crossing & uncrossing when all of a sudden a huge stream of pee pours out of her bathing suit!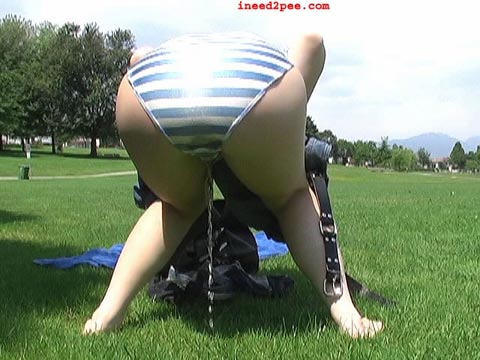 If only the ladies in my local park would get desperate enough to wet themselves in their swimsuits
Enjoy Alice Pissing In Her Swimsuit


Filed under: Desperation and Ineed2pee and Peeing and Pissing and Swimsuit Peeing
Posted on 08.17.07
Comments: 15 Comments

This is from fully Clothed Pissing. This is what the site says about it. One of the hottest and most extreme pissing sites on the WWW, where frantic fucking and sucking is combined with drenching watersports. A place where every hole is ravaged, every stitch is sprayed, and every cute, smiling face is showered with gold-that's why we call it Fully Clothed Pissing! I think it sums it up well but I will let you be the judge. At the site there are lots of free piss movies so it is well worth looking you can visit the site by clicking here.
Enjoy The Hot Peeing Action


Filed under: Peeing and Pissed On and Pissing
Posted on 08.16.07
Comments: None

This is a hot photoset from Pee Asian the Asian lady is dressed in a football outfit posing and of course pissing. I love the Pee Asian sets the ladies peeing look so innocent and to be so dirty is cool. This Pee Asian model has a great piss spray when she releases. The last photo with her pee covered vagina is a winner for me
Enjoy The Pee Asian Chick Pissing


Filed under: Asian Pissing and Pee Asian and Peeing and Pissing
Posted on 08.15.07
Comments: 4 Comments

One of the best videos I have seen in a long time. Rebekah pisses on the train platform. She is so desperate to piss that the pee starts squirting out till she is flooding her panties with the hot piss. This is a really messy video with piss running down her legs and the sound as the piss puddle at her feet grows is simply great.
At her site Needapee Rebekah wrote this about the video
"Already running late for an appointment, my day went from bad to worse when I arrived at the train station busting. British trains are notoriously late and so in painful desperation I pissed myself before tossing my soiled panties to the side and leaving them on the platform!"
All I can say is this pee movie is a 5 out of 5 for me. I just loved this piss movie it had it all desperation, uncontrolled peeing, knicker wetting and at the end she strips of the piss wet knickers and leaves them on the platform bravo Needapee Rebekah this is a stunning pee movie
Enjoy Peeing At The Train station


Filed under: Knicker Wetting and Needapee and Outdoor Pissing and Peeing and Pissing
Posted on 08.13.07
Comments: 1 Comment