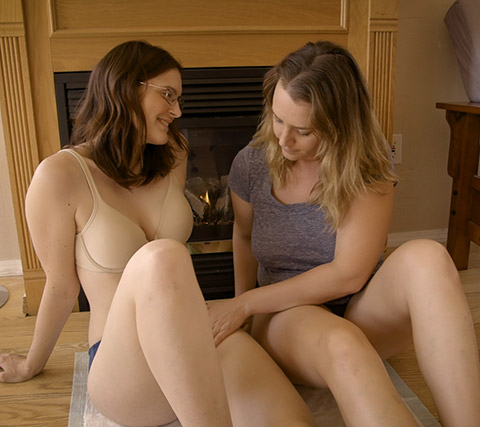 From HD Wetting we have the wonderful Alisha and Sosha in some great lesbian pissing action. We start off with them sitting on the floor and making out. They are really getting turned on and then Sosha straddles Alisha and starts to pee in her panties onto her. Alisha has a wonderful pool of piss on her belly. When Sosha finishes pissing in her panties they are dripping wet. Alisha can't control herself and pulls the sopping panties off and eats Sosha's pissy pussy. See Sosha pee on Alisha here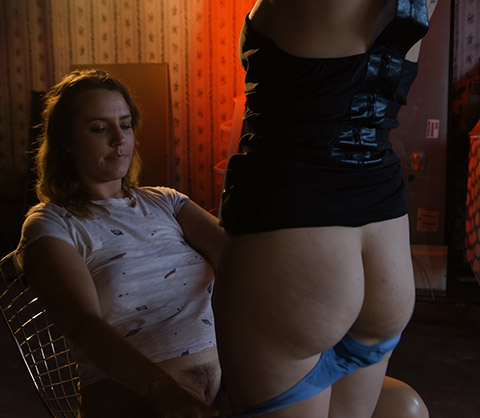 Next up we join them with Alisha sitting on a chair. Sosha starts to dance around her and as she does she starts to raise her dress till her panties are showing. She dances around she stops and squats and starts to pee through her panties onto her lap. Once again getting pissed on has turned Alisha on and her pussy is dripping. Sosha pulls her pants of and then starts to lick her piss soaked pussy till she is cumming. See Alisha Soaked In Piss here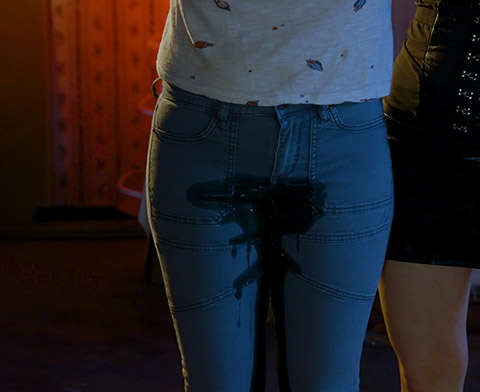 Last up we have Alisha bound and desperate to pee. She is in tight jeans and Sosha is teasing her. She is so busting to go she starts to squirm but the pressure is to much and she starts to pee in her jeans. The piss patch is great it spreads fast and she is soaked when he finishes pissing. Alisha then pulls her jeans down and licks her out. See Alisha Pissing In Her Jeans Here.


Filed under: HD Wetting and Jeans Peeing and Jeans Pissing and Knicker Wetting and Lesbians Peeing and Panty Pee and Peeing and Pissing and Pissing In Pants and Pissing Pictures
Posted on 11.18.18
Comments: 2 Comments


Tags: Alisha HD Wetting, HD Wetting, Jeans Peeing, Knicker Wetting, Lesbians Peeing, Panty Pee, Panty Peeing, Peeing Pictures, Pissing In Pants, Sosha HD Wetting, wetting
From Vipissy we have three lesbian pissing movies. We start off with Emma and Amanda Estela. These two hotties take no time to strip off and start to pee on each other. There is some great lesbian piss drinking and licking action and when they finish they are soaked in pee and fully satisfied. Watch Emma and Amanda Estela Peeing Here.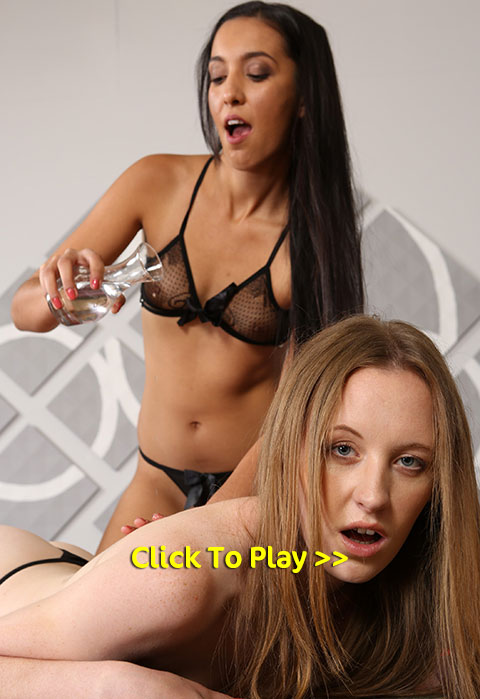 Next up we have Akasha Coliun and Ashley Ocean. We start off with a great panty wetting and then get some great lesbian piss drinking and pee play. These two really do have a great time as they spray each other in warm piss. See Akasha Coliun and Ashley Ocean Pissing Here.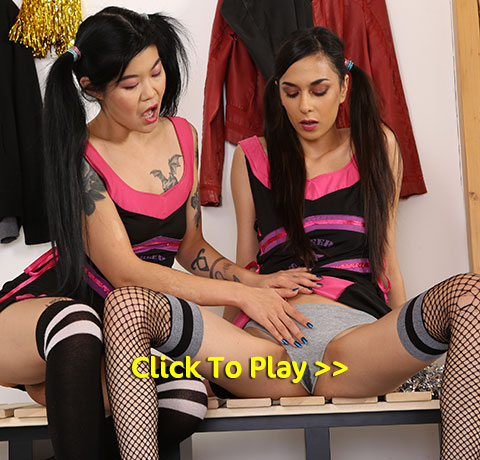 Last up we have a Halloween lesbian peeing movie starring Jenifer Jane,Claudia Macc and Sasha Sparrow. We start off with a hot pants pissing before the three of them strip and start to piss and make out. There is some great wet lesbian piss play in this one. Watch Jenifer Jane,Claudia Macc and Sasha Sparrow in their lesbian piss here.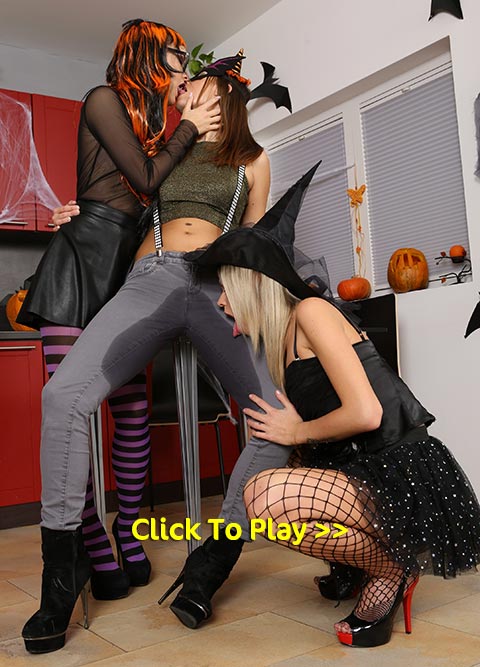 Filed under: Drinking Piss and Lesbians Peeing and Movies and Pee Pee Babes and Peeing and Pissed On and Pissing and Pissing Movies and Pissing Pictures and Pissing Videos and ViPissy
Posted on 11.14.18
Comments: None


Tags: Akasha Coliun Vipissy, Amanda Estela Vipissy, Ashley Ocean Vipissy, Claudia Macc Vipissy, Emma Vipissy, Jenifer Jane Vipissy, Lesbian Pissing Video, Lesbians Peeing, Sasha Sparrow Vipissy, ViPissy
From Ineed2pee we have three hot pants peeing sets. We start off with the always sexy and desperate to pee Sinn Sage. Sinn is in jeans and looking lovely, her bladder is bulging and her tight jeans are cutting in. She starts to squirm and grab her crotch, she is looking so ready to burst. She grabs her crotch again and then let's go and starts to pee in her jeans. Her jeans start to go damp and then we get the wonderful pee shine as the denim is getting soaked. Her pee is running down her legs and pooling on a towel at her feet. She finishes peeing in her jeans her bladder is feeling wonderful. Sinn Sage pulls down the piss soaked pants to show her wet panties too. A super sexy jeans wetting. See Sinn Sage Pissing Herself Here.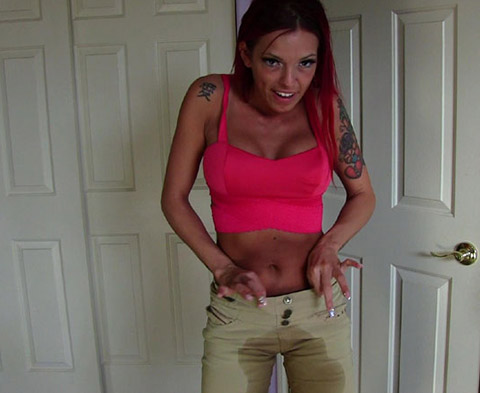 Next up we have Bella, she is in tan pants and a mid-cut top. She is standing outside a locked bathroom really needing to pee. She really needs to pee and has started to do the pee pee dance. She is getting more and more desperate as she jiggles around until she can't hold on and a little bit of pee squirts out and the crotch of her pants go dark. That is it, she can't hold on any longer and starts to flood her pants with piss. He pee is cascading down her legs and the fabric is shining. The light colour of her pants and the dark piss patch contrasts so well. When she finishes pissing her pants she pulls the soaked fabric down and we get to see her piss soaked blue panties too. See Bella Pissing Herself Here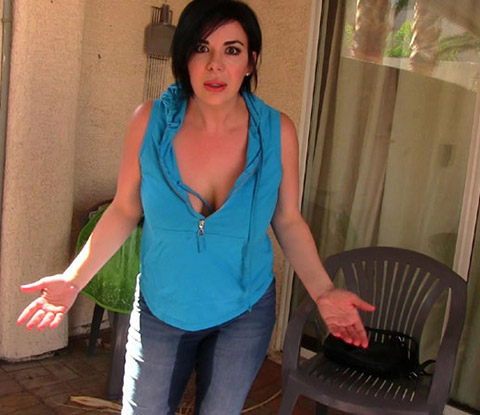 Last up we have Kenna. She is in tight jeans and is busting for a pee. We all know Kenna loves peeing herself. She struggles to hold on for a while and then starts to pee in her jeans. When she releases her pee explodes into her jeans creating piss rivers down her legs soaking her bottom too. She looks so sex when she finishes peeing. Kenna pulls her soaked jeans down and we get a pissy panty shot too. See Kenna Piss Herself Here.

Filed under: Desperation and Female Desperation and Ineed2pee and Jeans Peeing and Jeans Pissing and Peeing and Pissing and Pissing In Pants and Pissing Pictures
Posted on 11.10.18
Comments: 1 Comment


Tags: Bella Ineed2pee, Desperate To Pee, Female Desperation, Ineed2pee, Ineed2pee Kenna, Ineed2pee Pictures, Jeans Pee, Jeans Peeing, Pissing In Pants, Sinn Sage Ineed2pee, wetting
From Real Wetting we have the wonderful Dee. We have had this wonderful wetter previously and if you have missed her check out Dee Peeing In Red Leggings. Dee Peeing In Her Shorts Waitress Desperate And Pissing Herself  and Dee From Real Wetting Jeans Pee. Today she is out rollerblading dressed in purple pantyhose with shorts over the top. She is desperate to pee but is going to hold on till she has finished as she is enjoying herself so much. You can see that she is desperate as she is not concentrating on what she is doing as much as she should be.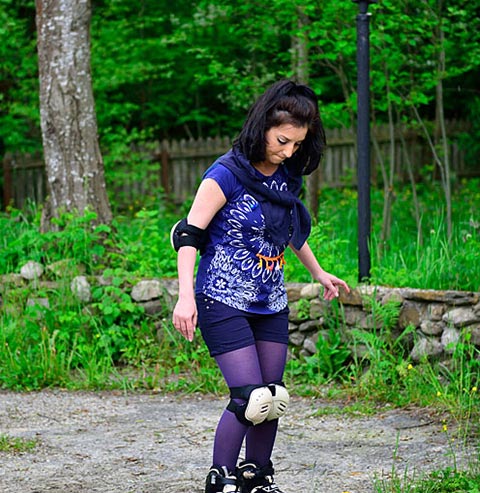 Dee glides around and she is getting more and more desperate. She has to stop and she leans over a little trying to hold her pee in. She starts to move again and then stops. Her bladder is protesting. She is so full of pee and then as she is bent over she starts to pee and we get to see the start of her pee flowing into her shorts and pantyhose there is the tell-tale dark patch.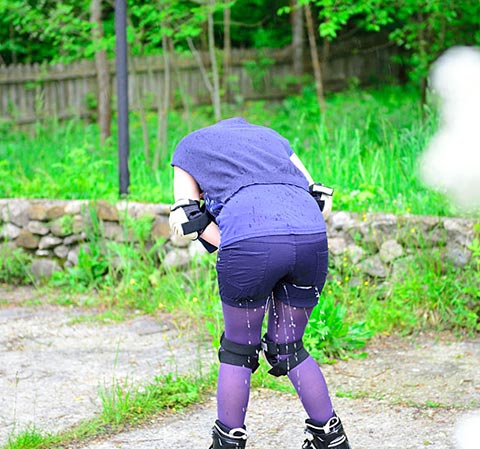 Dee has started to pee in her shorts and the fabric is going dark. The piss steam starts off slow and then erupts so she has piss spraying out and her pantyhose have rivers of piss running down her legs. Her kneepads are getting soaked and pee is even flowing into her rollerblades. What a mess she is making. When she finishes pissing, her shorts are soaked and her pantyhose have rivers of pee. What a sexy mess she is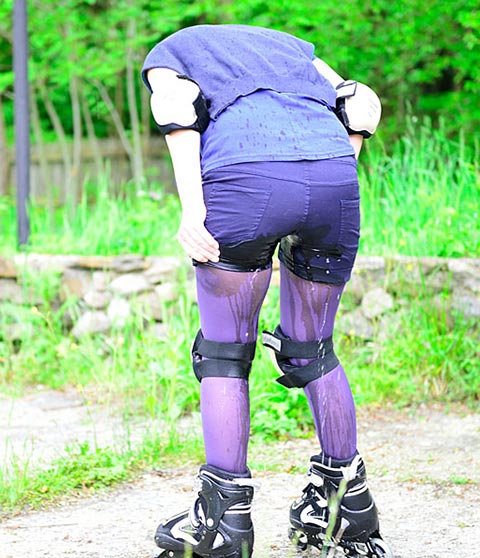 See Dee Peeing Her Shorts And Pantyhose Here


Filed under: Audreys Wetting Site and Babes Peeing and Desperation and Female Desperation and Outdoor Pissing and Pantyhose Pissing and Peeing and Pissing and Pissing In Shorts and Pissing Pictures and Real Wetting
Posted on 11.07.18
Comments: 2 Comments


Tags: Audrey's Wetting Site, Dee Real Wetting, Desperate To Pee, Female Desperation, pantyhose peeing, Pantyhose Pissing, Peeing Pictures, Pissing In Shorts, Real Wetting, shorts peeing, Shorts Pissing, wetting