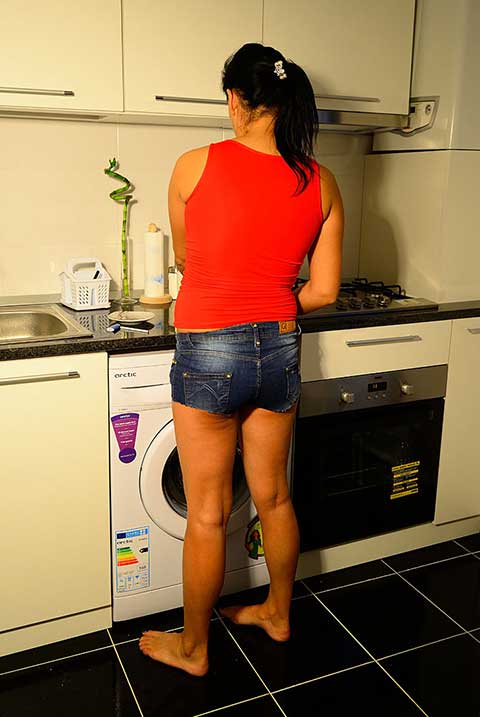 From Real Wetting we have the wonderful Erica. Erica is in the kitchen wearing a tight top and cut off denim shorts. She is doing the dishes and desperate to pee. She is loving the feeling as she gets more and more desperate to pee, her bladder is getting bigger and bigger and the waist band of her denim shorts is cutting in making her even more desperate.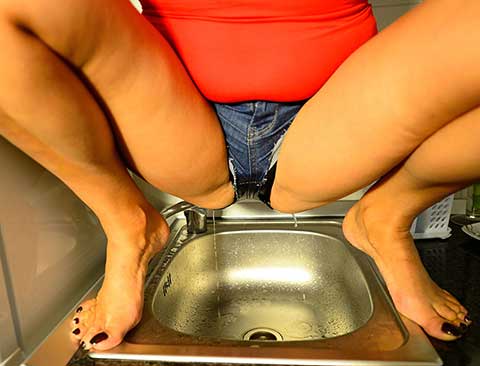 She holds on a little more and then her bladder is telling her she has to pee now. She can't wait to go to the toilet. She has a great idea, she climbs up on the bench and then when she gets there she squats over the sink and starts to pee. She is peeing in the sink through her shorts and the first drips of pee flow out before the big piss gush starts.

Erica is flooding her shorts in piss, there is pee soaking into the denim and then spraying out of the sides. This is one messy shorts pee and she is soaking herself so well. Her pee keeps on flowing and the denim of the shorts takes on the lovely shine as it is saturated in pee. She finishes her sink piss gets back down and she has a wonderful piss patch in her crotch. She turns around and her bottom is soaked in pee. A super denim shorts pee

See Erica Peeing Her Shorts Here


Filed under: Desperation and Female Desperation and Peeing and Pissing and Pissing In Shorts and Real Wetting
Posted on 06.22.17
Comments: 1 Comment


Tags: Audrey's Wetting Site, Desperate To Pee, Erica Real Wetting, Female Desperation, Pissing In Shorts, Real Wetting, shorts peeing, Shorts Pissing, wetting
From HD Wetting we have the wonderful Alisha she is desperate nude and looking so sexy. She is standing in the lounge desperate to pee and fully naked she has wonderful natural breasts and every time she jiggles trying to hold on they jiggle too. It is a wonderful sight as she is holding on. She has her hand holding her crotch and her hand is jabbed in there hard. She is not playing around she really needs to pee, she holds on a little longer and then she is just to desperate and standing there she lets out a little dribble of pee.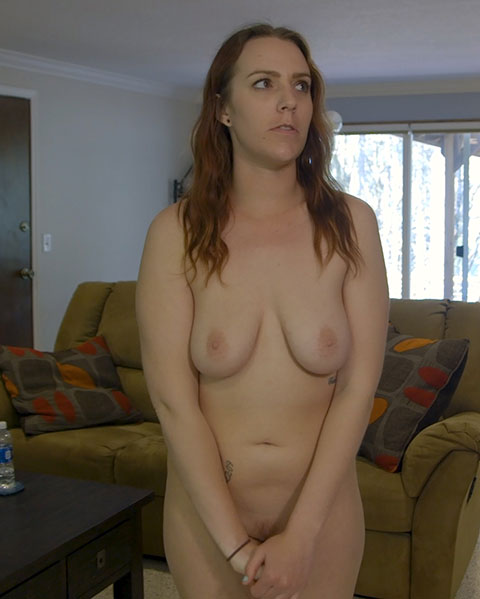 Alisha is naked and peeing in the lounge. She has started to pee and her hand is still holding her crotch. She is getting some warm piss soaking into her skin and as she moves her hand and we get a wonderful view of her nearly fully shaved pussy with a lovey stream of piss flowing out.

She is pissing hard now and her pee is flowing fast, it looks like it is starting to splash against her leg. What a wonderful warm feeling she will be getting. She slowly stops her piss flow and then when she is finished pissing in the lounge we get a wonderful view of her naked with a pissy pussy and I'm guessing a pissy wet hand. A lovely nude pee from HD Wetting


Filed under: Babes Peeing and HD Wetting and Peeing and Pissing
Posted on 06.19.17
Comments: 1 Comment


Tags: Alisha HD Wetting, HD Wetting, Nude Peeing, nude pissing, shaved pussy peeing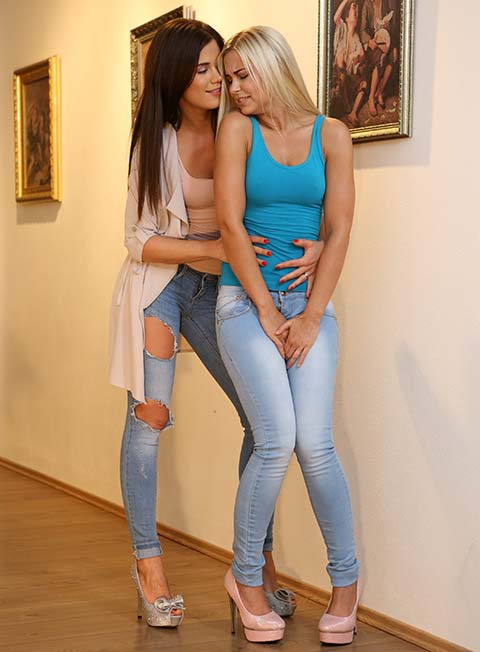 From Vipissy we have a great lesbian piss staring Little Caprice & Dido Angel. These are two wonderful hotties and this is the first lesbian piss scene that Little Caprice has stared in. As you know Dido is a raging lesbian pisser. Vipissy is one of the best lesbian pissing websites and if you have missed some of their hot and wet scenes in the past check out Hot Lesbians Pissing And Playing, Lady Dee & Paula Pissing Lesbians, Sexy Lesbians Pissing And Playing and Blond Lesbian Pissing Vipissy. Today's wonderful lesbians start off entering the house, they are both in skin tight jeans and really need to pee. Dido Angel grabs her crotch and then Little Caprice thinks she can have some fun and starts to press her bladder, she is pushing hard and then Dido starts to pee in her jeans.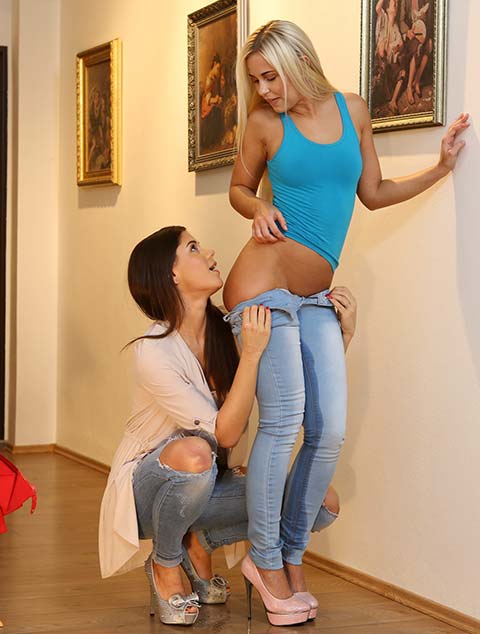 Dido is peeing in her jeans the light denim fabric is showing off the wonderful piss streams and soon the piss is dripping all over her feet, she is soaked in pee. Caprice is so turned on and pulls the piss soaked jeans down. Little Caprice can't hold on and she stands and starts to pee into her jeans too. Dido gets on her knees and starts to lick the denim as she is peeing. They are both so horny now they strip off and we get to see there pissy bodies.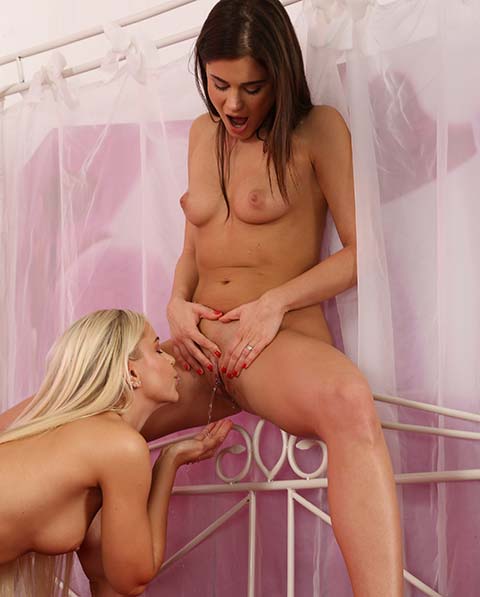 They take a shower and its not just water, after kissing, Dido gets on her knees and starts to drink Caprices piss from her pussy. There is pee dripping all over her as she gulps the golden fluid down. They can't wait, now they go to bed and start to make out there is more pissing and piss drinking and they end up cumming and pissing over and over again. A super sexy lesbian pissing with a lesbian piss virgin Little Caprice.

See The Wonderful Lesbian Piss click Here

Visit Vipissy Click Here



Filed under: Babes Peeing and Drinking Piss and Jeans Peeing and Jeans Pissing and Lesbians Peeing and Peeing and Pissed On and Pissing and Pissing In Pants and ViPissy
Posted on 06.15.17
Comments: None


Tags: blonde peeing, Dido Angel Vipissy, Jeans Pee, Jeans Peeing, Lesbians Peeing, Little Caprice Vipissy, Piss Drinking, Pissing Pussy, ViPissy, wetting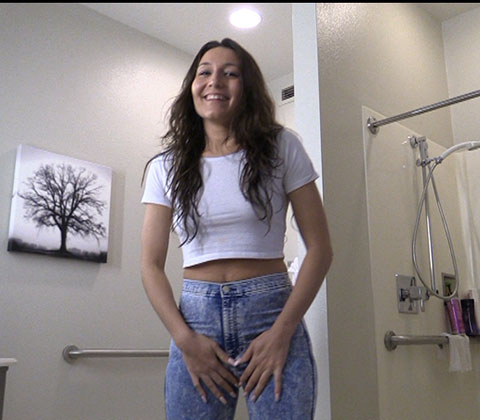 I'm sure you will all remember Nova from Ineed2pee the amateur wetter that we had in Amateur Panty Peeing From Ineed2pee It is wonderful when we get to see a real amateur desperate and peeing. The panty peeing was wonderful and today she is back in some very tight jeans and desperate to pee again. she is holding her crotch and is getting more and more desperate and she stands there she grabs her crotch again and then she starts to lose control and there is a little damp patch of pee that starts to show.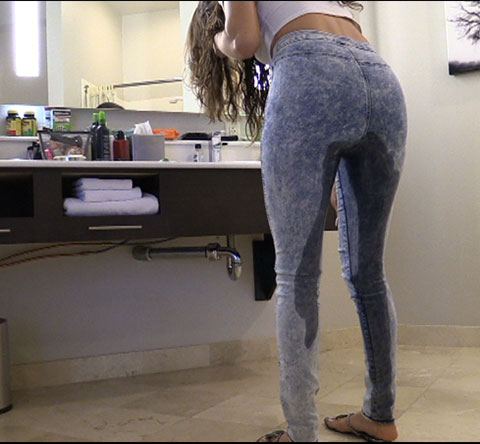 The story from Ineed2pee for this goes like this "There's something super sexy about watching a girl pee the very same jeans that someone else had peed in the week before! Imagine what they must smell like if they're not washed in between and then just given to wear for the next pissy girl? HOT! So Nova is back and she's a real true amateur and still shy; she's my friends GF who wanted to try wetting and really filled herself up with ton of water, as you can see, in her jeans! LOL "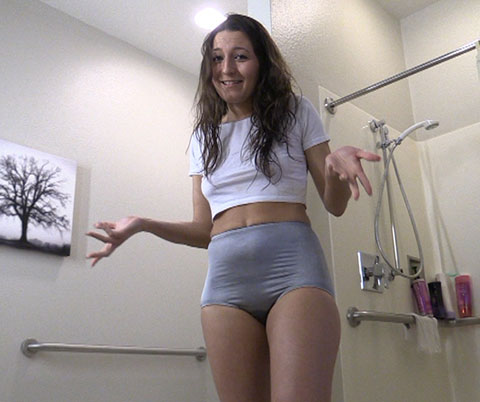 She has started to piss in her jeans and the light denim is getting darker. It starts to run down her legs and her jeans start to drip we are getting the wonderful shimmer on the fabric. I do love the sight of piss soaked jeans she keeps on peeing and then we get to see that her bare feet are soaked and there is a pool of piss around her. She finishes peeing in her jeans and pulls them down to show us her pee soaked satin panties. A wonderful amateur jeans pee

See Nova Desperate And Jeans Peeing Here


Filed under: Babes Peeing and Desperation and Female Desperation and Ineed2pee and Jeans Peeing and Jeans Pissing and Peeing and Pissing and Pissing In Pants
Posted on 06.07.17
Comments: 3 Comments


Tags: Desperate To Pee, Female Desperation, Ineed2pee, Jeans Pee, Jeans Peeing, Nova Teez Ineed2pee, Pissing In Pants, wetting