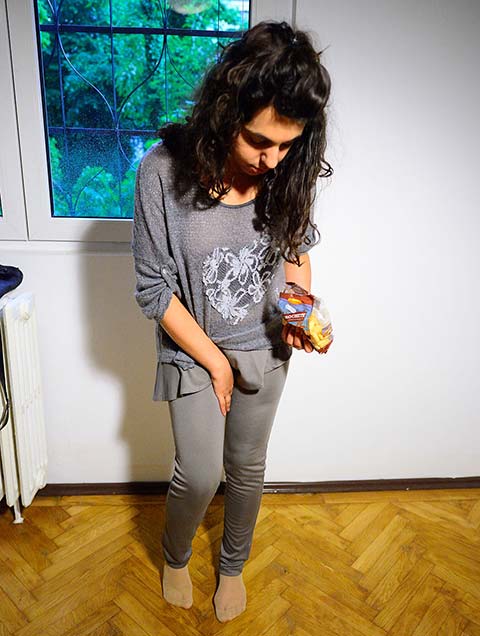 Merry Christmas to All.  From Real Wetting we have the wonderful Sara. We have had this lovely wetter before in Sara Pissing In Her Jeans Outdoors, Sara Peeing In Her Shorts outdoors, Peeing In Her Dark Blue Pantyhose and Sara Peeing In Her Pants Today she is in her tight grey pants and eating a snack. She is desperate to pee and enjoying the feeling as her bladder gets more desperate. She grabs her crotch and then turns around and starts to pee.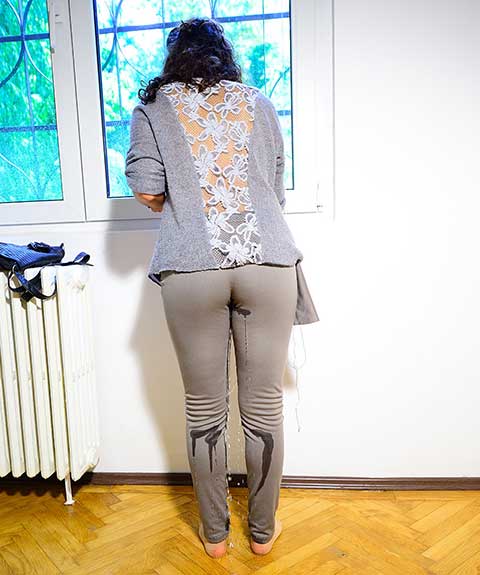 See is peeing in her grey pants, they are nice and tight and clinging to her bottom and legs. Her pee drips are giving a wonderful contrast against the pants and as she pees more the legs are getting darker and darker.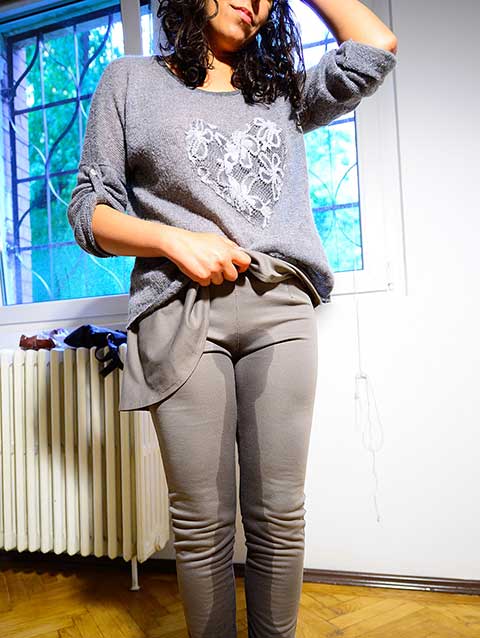 She really is giving her pants a good soaking, she has pee pooling at her feet and then she turns around and we can see the lovely pissy mess she has made from the front. A wonderful female desperation and wetting from Ineed2pee and Sara.

See Sara Desperate And Peeing Here


Filed under: Audreys Wetting Site and Desperation and Female Desperation and Peeing and Pissing and Pissing In Pants and Real Wetting
Posted on 12.25.15
Comments: 1 Comment


Tags: Audrey's Wetting Site, Desperate To Pee, Female Desperation, pants peeing, Pissing In Pants, Real Wetting, Sara Real Wetting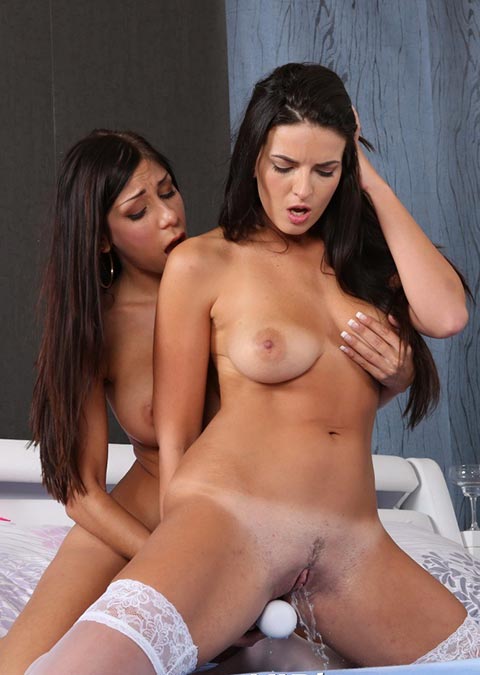 Vipissy brings us some wonderful lesbians playing and peeing. We starst off with Cynthia & Rachel Evans. The story from Vipissy goes like this. "Stunning dark haired Cynthia comes into the bedroom of Rachel Evans in a dressing gown and stockings. She is feeling really horny and starts to strip, to reveal her white lingerie. She wakes up Rachel and starts to play with her pussy before Rachel pisses into Cynthia's mouth. She enjoys every single drop and spits it over Rachel's big boobs. Soon both babes are naked and Cynthia gets the favour returned as her pussy is fingered and licked. Cynthia sprays her golden piss all over Rachel while she is being fingered and the bed is completely drenched in piss. They capture piss in a cocktail glass before they playfight with each other and the grand finale of this seductive scene includes Rachel toying her pussy with a magic wand vibrator!" See The lesbian peeing Pictures Here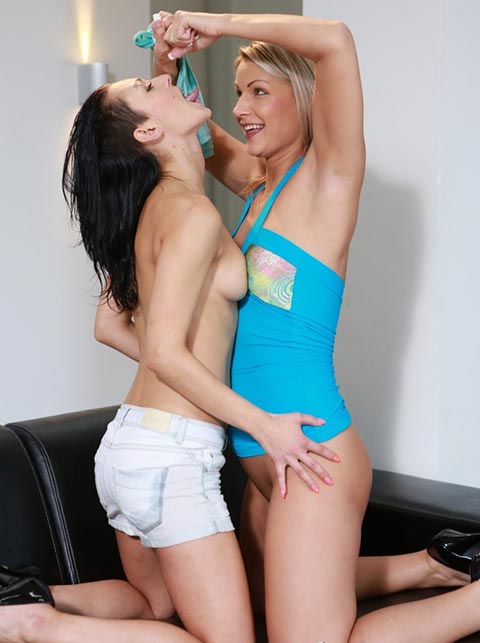 Next up we have Kara & Samantha Jolie. The story about their pissing endeavours goes like this "Gorgeous blonde Samantha surprises her friend as she is reading by pissing all over her head. This is a welcome surprise and brunette Kara really enjoys being showered in golden pee. These beautiful babes start to kiss and continue their piss play as Samantha laps up the piss from now naked Kara's pussy. Feeling even hornier, each girl enjoys some pussy licking and fingering fun before Samantha moves onto a glass dildo. She pisses all over it and sprays her friend with even more of her juices. Between these two watersports loving babes, they take turns in dildo play and finish off an exciting lesbian session by catching their pee in a goblet and tasting it! They both look very satisfied with their afternoon!" See These two hotties peeing here

Last up we have Aika Mai & Vanessa Twain. a great lesbian pee the story from Vipissy goes like the "Vanessa loves to surprise Aika, and leaving her prudent gifts is one of her favourite of doing so. Aika busily fondles her gift as Vanessa enters the room. Aika has no problem being the centre of Vanessa's affection, laying comfortably in bed as Vanessa fulfills her needs. Aika soaks in every rub, stroke, and lick that Vanessa provides to satiate that need. The pissing begins with Vanessa hanging from the canopy bed. She's confident in her act, but she's amenable to Aika's reciprocations. The bond between them is unmistakable as Aika lays onto Vanessa and raising her legs upwards as Vanessa tucks them underneath her own legs. After Aika straps on her gift, she shifts it aside for some more pissing. Aika continues to show just how much Vanessa's actions turn her on. Her body, at the mercy of Vanessa, quivers her leg frantically before she drops from the exhaustion. For the final act, the girls come together in the middle of the bed to piss simultaneously onto the bed and each other." See these two lesbians peeing here.


Filed under: Babes Peeing and Drinking Piss and Lesbians Peeing and Peeing and Pissed On and Pissing and ViPissy
Posted on 12.18.15
Comments: 1 Comment


Tags: Aika Mai Vipissy, Cynthia Vipissy, Kara Vipissy, Lesbians Peeing, Peeing Pictures, Piss Drinking, Rachel Evans Vipissy, Samantha Jolie Vipissy, Vanessa Twain Vipissy, ViPissy
HD Wetting brings us the lovely Sosha, it's been a while since we have had her pissing herself at HD Wetting and for those that have missed her peeing antics here check out  Lesbian Bath Pissing HD Wetting Lesbian Panty Pissing Threesome Sosha Pissing on Alisha and Alisha And Sosha In Wet Pee Play. Today we start off with an unplanned jeans pee. Sosha had finished doing some wilderness wetting driving back she needs to pee. She stops by a porta potty not wanting to go in she stands in the middle of the road and starts to pee in her jeans. As she pees her pee starts to run down the inside of her legs and makes it way down till it is in her shoes and splashing on the road. Sosha is such a natural wetter here she is, she has pissed her jeans on a deserted road and looks like she would be comfortable to get into the car and drive off. See Sosha peeing her jeans on the road here.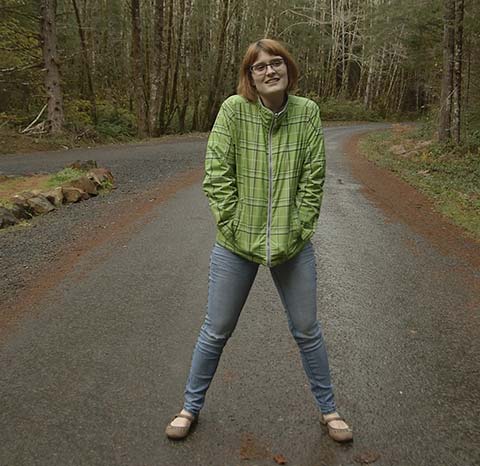 Next up we have her handcuffed to a tree in the forest. She is bound against a tree and is desperate, she squirms and tries to hold on but her bladder is not cooperating and she has no choice but to pee in her jeans while handcuffed. Her piss explodes into her jeans running down her legs and fully soaking the denim it is even getting the wonderful shiny look. A lovely bound jeans pee with Sosha. See Sosha Bound and Peeing Here

Last up we have Sosha she is in her jeans and on the floor, she kneels and starts to piss. She is soaking her legs and there is a big pee puddle pooling on the floor. When she finishes pissing into her jeans she sits in her warm pee puddle soaking up all her pee. her jeans are fully piss soaked now. She takes off her top and we get to see her wonderful breasts and then she masturbates till she cums. Such a dirty girl. See Sosha Jeans Peeing And Playing Here


Filed under: HD Wetting and Jeans Peeing and Jeans Pissing and Peeing and Pissing and Pissing In Pants
Posted on 12.14.15
Comments: None


Tags: HD Wetting, Jeans Pee, Jeans Peeing, Sosha HD Wetting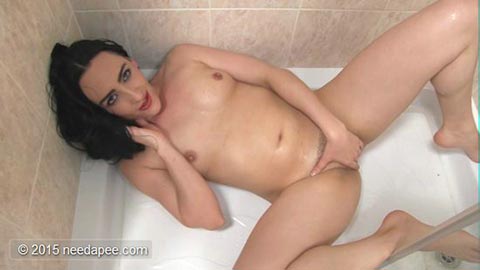 It's been a while since we have a post from Needapee and the lovely Rebekah Dee. Today we have a Needapee post staring the lovely Chloe.  The story for the first self pissing set goes like this "Now I know that a few years back I posted a self-pissing clip which was probably one of the most popular videos to date. Well here is Chloe who has a real treat in store for you! She's always harboured a fetish for peeing on herself but admitted that she was a little shy to try this out for herself. But when I invited her to give it a go for you guys she jumped at the chance. Watch her soak herself then masturbate as she thinks of you guys – cock in hand!" See Chloe Pissing Here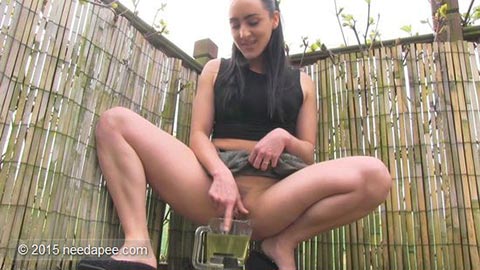 Next up Chloe has a go pro the story from Needapee goes "We try something new for this latest clip. Recent star of the show Chloe pisses and fills a jug with her rich green pee that she must have been saving up for some time. We plant a waterproof Go-Pro camera in the bottom of the job in order to test the waterproof claim! After her piss Chloe can't resist playing with her pee and of course herself. This scene was shot with two cameras offering you alternative perspectives of Chloe is action." See Chloe pissing on the camera here.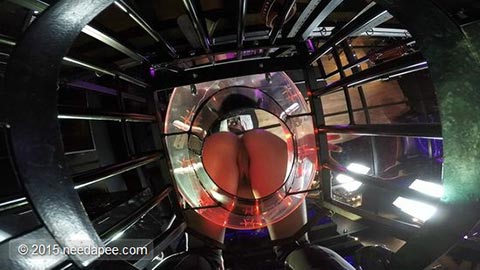 Last up we have Chloe as a toilet slave "The new Go-Pro series of videos have proven to be very popular, judging by the response to the first video of the series. Chloe is back for another adventure which takes full advantage of the waterproof features of the Go-Pro camera! Two cameras are used here to give you two angles. The Go-Pro offers you the best seat in the house, right underneath Chloe's bum! You'll see her pussy tease apart as she plays before releasing teasing shorts burst of pee right down on to your face!" If you have ever wanted to be pissed on this is one for you. See Chloe peeing here


Filed under: Babes Peeing and Needapee and Outdoor Pissing and Peeing and Pissed On and Pissing and Self Pissing
Posted on 12.10.15
Comments: None


Tags: Chloe Needapee, Needapee, Pissing On Herself
From Ineed2pee we have three wonderful female desperation and wetting scenes. We start off with the lively Ela Darling. Ella today is a teacher and she is having to watch her class she is desperate to pee and sitting at her desk the story goes " Famous pornstar Ela Darling is your teacher but she really should've used the bathroom before administering the exam to her students! She's grabbing her crotch & double crossing her slim legs to keep from wetting her panties & hose, all while trying to appear "normal" in class! It starts trickling out & you can hear it hissing but it's pooling in her butt area! She pushes her butt forward & it splashes loudly all over the place! She really does end up soaked in piss. See Ela Desperate And Peeing Here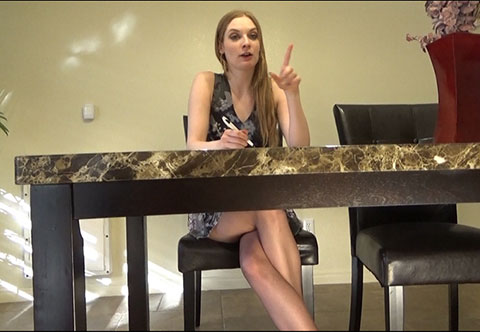 Next up we have Tara. Tara is in shiny spandex leggings and is desperate to pee. It's been a while since we have had a shiny spandex pee. if you have missed the last one check out Peeing In Shiny Spandex Leggings I wonder if todays are the same ones that Natalie Storm peed in. Tara is desperate, she is doing the pee pee jiggle and is just to desperate to hold on. She stands and starts to pee in her leggings, the piss stream runs down her legs and soaks into her runners. She finishes peeing and the shiny spandex shows of her pee mess so well. See Tara desperate and peeing here.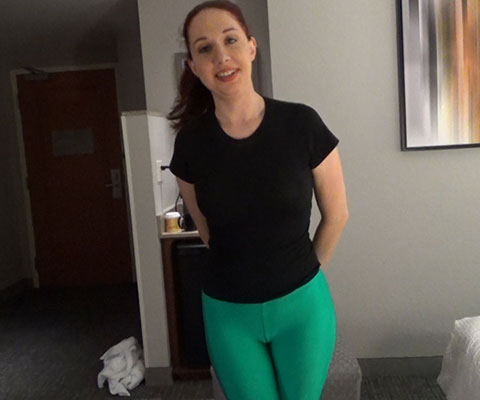 Last up we have Cheyenne Jewel & Katie. Today they are going to embark on a pee holding contest they fill themselves up and then when desperate and about to burst we get to see them squirm. They hold on as long as they can but Kate can't hold on and piss herself with Cheyenne Jewel watching she then starts laughing and piss herself too. See The Pee Holding Contest Here.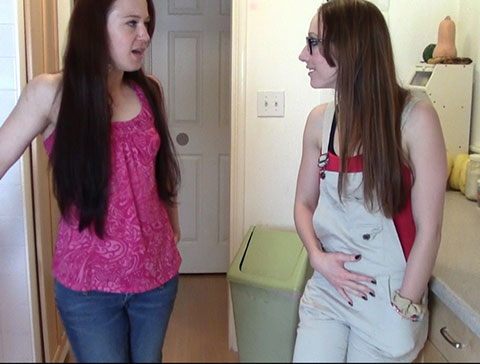 Filed under: Desperation and Female Desperation and Ineed2pee and Peeing and Pissing and Pissing In Leggings and Pissing In Pants
Posted on 12.07.15
Comments: 1 Comment


Tags: Desperate To Pee, Ela Darling Ineed2pee, Female Desperation, Ineed2pee, Ineed2pee Cheyenne Jewel, Jeans Pee, Jeans Peeing, Kate Ineed2pee, Pissing In Leggings, Pissing Leggings, Spandex, Tara Tied Ineed2pee