From Wetting Her Panties we have another set from the very sexy Charlotte. We last had her in Charlotte Peeing in Her Panties today she is in the same location but in a short skirt and a blue top. She really does look just as sexy as last time if not more. She grabs her crotch and then rubs her fingers around before pushing them into her pussy. You can make out her pussy lips through her knickers. She holds on a little longer and then starts to pee in her knickers.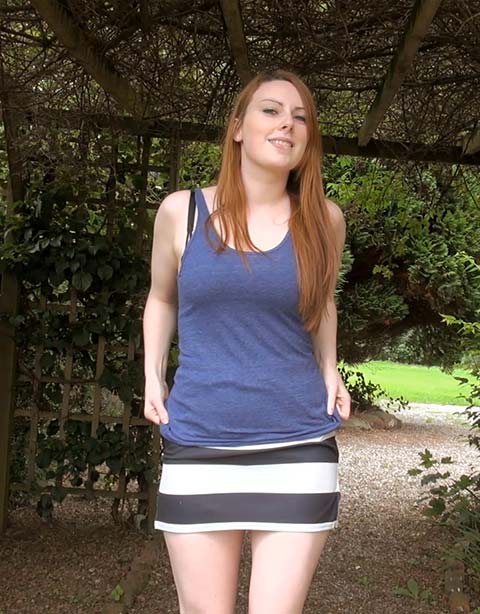 Charlotte is knicker wetting outdoors, her panties are going dark where the warm piss is soaking into the cotton. There is a great pee stream flooding through her knickers and splashing on the ground, she has even started to get some warm pee running down her legs. She turns around and keeps peeing, we get a great shot of her knickers tight between her butt cheeks and a wonderful view as her pee is running down her inner thigh. Imagine the wonderful warmth to touch her panty covered crotch as she is peeing.
Charlotte finishes peeing in her knickers, she turns back around and we get to see the piss patch in her crotch. She grabs her piss soaked panties and squeezes them her pee runs through her fingers and drips on the ground, she has soaked them nicely. She stand and pulls her piss soaked knickers down and it is now that we get a glimpse of her pissy pussy, her panties have a soaked crotch and her cute vagina will be all damp too. What a sexy knicker wetter Charlotte she is and it really does seem that she enjoys peeing in her knickers.
See Charlotte Peeing In Her Knickers Here