A short lesbian pissing story I came across

Bonnie and Michelle met the first day of Secretarial School. They ate lunch together the first day and found they had a lot in common. Movies, boys, music, boys, books, boys..

Bonnie was telling Michelle she couldn't find an apartment she could afford. Michelle couldn't believe it. She had an apartment she couldn't afford and was thinking of moving out.

"How does $200 a month each and we can live together sound," Michelle said. Bonnie was ecstatic. Her dilemma had been distracting her and now her problem was solved.

Bonnie moved in that night. They both realized they would be giving up some privacy because Michelle's apartment only had one bedroom and one bed. At least it was a queen size, Bonnie mused. She had never slept with a roommate before but what could it hurt. Michelle had another slight problem she had to share with Bonnie. She should have told her before she moved in, she thought.

"Bonnie," Michelle said. "I have one more thing to tell you. You may want to pack and leave after I tell you but its only fair that you know."

"What's that, Bonnie asked curiously. How bad can it be?"

"Well I have to set my alarm clock for 2:30 every night to get up and pee. If I don't I almost always wet the bed.

Bonnie laughed. "Is that all. That's not a problem. I probably won't even hear it that time of the night. I'm a pretty sound sleeper. They both giggled as they hauled the last of Bonnie's clothes from her car.

It was their 7th night together as roommates. They had ordered a pizza and had a few beers.. Michelle's alarm went off but she didn't hear it.

Bonnie awoke with a strange odor coming from under the covers. She turned in the bed and felt the warm wetness squishing her leg. She lifted the covers and smelled the strong aroma of piss. She didn't know why but it overwhelmed her. She saw Michelle's firm, round ass cheeks and her panties glued to the crack of her ass from the wetness. Before Bonnie's fingers could even reach her pussy she came.

"UGGGGGHHHHHHHHHHHHHHHH," Bonnie moaned as the orgasm swept over her. God, what came over me, she wondered. That's never happened to me before.

Suddenly Michelle woke up. She knew immediately what she had done. She turned to Michelle in total embarrassment.

"I'm soooo sorry Bonnie, Michelle cried. I'm so ashamed of myself."

"Hey, don't be, Bonnie said. Don't worry about it."

They got up and changed the sheets. Michelle had taken the precaution long ago to put a rubber covering over her mattress so she wouldn't ever leave any permanent odor or stains.

A couple days go by and Bonnie can't that morning out of her mind. The aroma, the feeling of the warm urine soaking her t-shirt and legs. Not to mention the sight of Michelle's round, little ass cheeks sucking those piss soaked cotton panties up into her crack.

That night, after Michelle fell asleep, Bonnie turned the alarm clock off. She laid in bed awake all night waiting.

Suddenly, without warning, she felt the warm piss soaking her leg. The piss was coming in a stream, splashing over Bonnie's panties and shirt. She began to cum immediately. Her body was racked with orgasms. She was fingering her pussy vigorously, not wanting this to ever stop. When the last orgasm subsided she fell into a deep sleep.

"I don't understand why the alarm clock was turned off, she heard Michelle mumble. I'm sure I turned it on."

"You turned something on alright, Bonnie hissed. It was me."

Bonnie grabbed Michelle and pulled her on top of her. "Do you have to piss right now," Bonnie whispered.

"Yes, Michelle answered. I'm going to go to the bathroom.

"Piss now, Bonnie ordered. The sheets are already soaked. Piss now!!!"

Bonnie felt the the gush hit her pussy. She went out of her mind as an intense orgasm exploded between her legs. She never felt anything so depraved and delicious. She felt another orgasm welling up inside her. "God damnnnnnnnnn URGGGGGGHHHHHHHHHHHHHH," as her body shook relentlessly, cum flowing from her pussy in waves of pleasure..

Michelle, caught up in Bonnie's depravity, began thrusting her pussy into Michelle's cunt. She felt her swollen clit assaulting Bonnie's pussy and an orgasm began welling up into her cunt.

"I'MMM CUUMMMMMMIIIINNNGGGGG." she screamed. They both smelled the aroma from the mixed fluids streaming from their dripping holes.

Michelle laid on top of Bonnie for a long time without moving.

Bonnie broke the silence. "I can't get enough of this Michelle, she whispered. I want your piss on my tits, my pussy and even in my mouth. If you think I'm horrible just tell me and I'll move out.

She got her answer when Michelle reached over, picked up the alarm clock, and forcefully smashed it on the floor.


Filed under: Piss Stories
Posted on 01.31.12
Comments: 15 Comments


Tags: pee story, pissing story
From Wet In Public we have these three public wetting movies. The first Wet In Public movie has a chick in her long jeans shorts. She is in the street and desperate to pee you can see her holding her bladder she really needs to pee. She finds a quiet place and then she is peeing in her jean shorts just look at her pee as it explodes through the denim her pee patch is so dark and you can her piss flowing down her legs this is one great public jeans shorts wetting.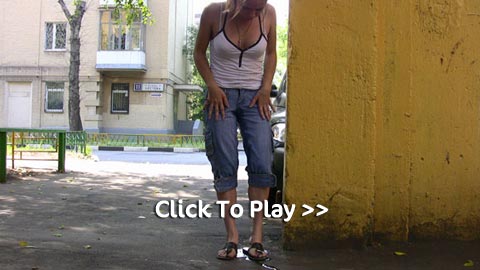 The next Wet In Public movie has a chick in her shorts once again you can see that she is desperate to pee. She stops in the street and tries to hid between some cars you can tell that she is not happy to be having to pee in her shorts in public all she wanted was a nice toilet but alas being from wet in public that's not going to happen. She starts peeing in her shorts and then someone walks by just as she was peeing, she has her pee streaming down her legs there is no way you could not tell what she is doing how embarrassing to be caught peeing in your shorts in public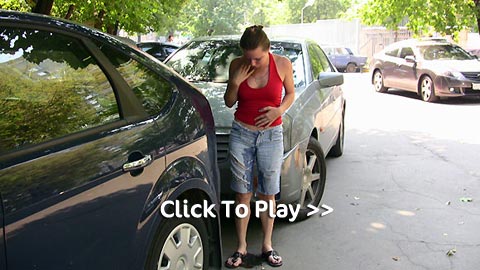 The last Wet In Public movie we have is a great jeans wetting, she walks into shot and you can see that she is desperate to pee. She jambs her legs together hops a couple of times and then she is peeing in her jeans this is one great peeing movie she is soaking her jeans and she is beside a road with cars going by. I really do enjoy watching Wet In Public movies there is something so sexy watching a chick pissing her self in public.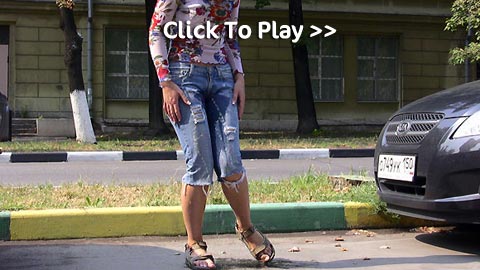 See Wet In Public Movie 1, 2, and 3


Filed under: Jeans Peeing and Jeans Pissing and Movies and Outdoor Pissing and Peeing and Pissing and Pissing In Pants and Pissing In Shorts and Pissing Movies and Pissing Videos and Public Pissing and Wet In Public
Posted on 01.27.12
Comments: 1 Comment


Tags: Jeans Pee, Jeans Peeing, pants peeing, Peeing Movies, Pissing Movie, Shorts Pissing, Wet In Public, wetting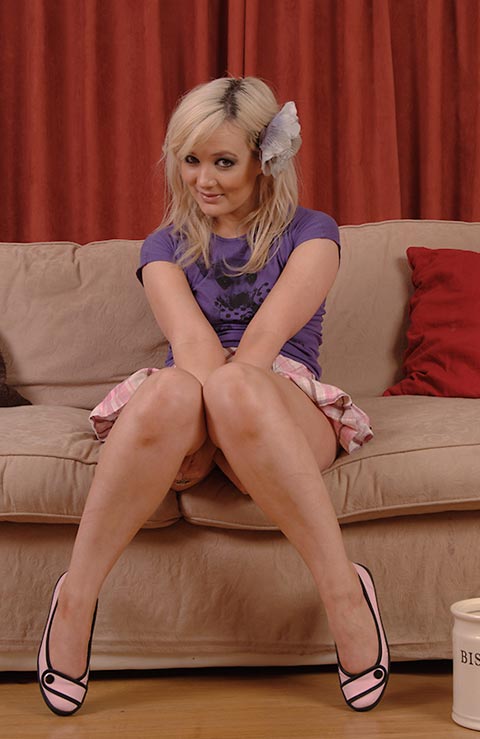 From Wetting Her Panties we have Faye X we have had some great peeing sets from her in the past if you have missed them check out Jeans And Panty Peeing With Faye X, Fay X Peeing In Her Panties, and don't miss Pantyhose And Panty Peeing With Fay X. this time Faye X is in a skirt and panties and looking so sexy. I think she is getting more and more cheeky the longer she is being around at Wetting Her Panties. When she started off her panty peeing she was good now she is great she seems to love peeing in her panties, jeans peeing skirt wetting and then playing in her pee puddles more and more its is just great seeing her soaked in pee.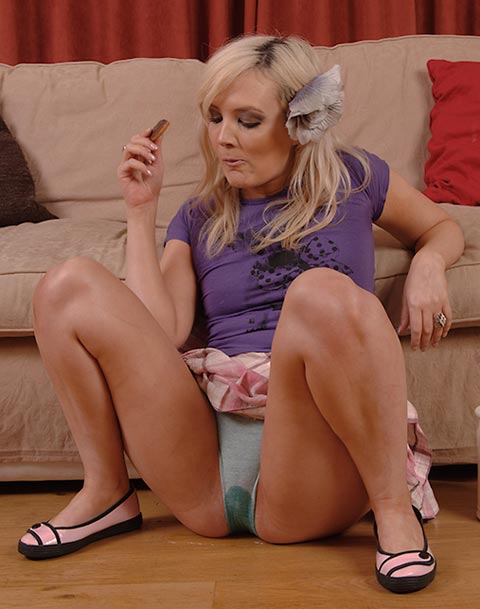 Faye X is playing in her skirt and panties she sits on the floor and starts to eat a cookie just look at her panties covering her pussy so tight I bet her bladder is so full too and that she is just loving that desperate to pee feeling. She spreads her legs wide open while sitting on the floor we can see her panties and then she starts to pee in her panties just look at the dark pee patch grow as she is knicker wetting.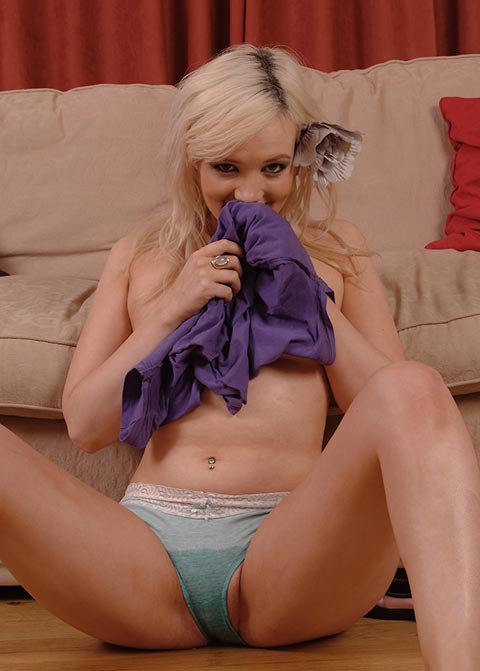 Panty peeing sitting on the floor what more could you want? Faye X is sitting there peeing in her panties and her puddle of pee is growing and soaking her bottom too. Faye X stands up and you can see her soaked panties but she is not finished yet. Faye X sits back down in her pee puddle, takes off her top showing her lovely breasts and just look at her peed in panties tightly encasing her pussy she really is one hot pissy mess another great knicker wetting set of pictures from Wetting Her Panties

See Faye X Peeing In Her Panties Here


Filed under: Babes Peeing and Knicker Wetting and Panty Pee and Peeing and Pissing and Pissing In Skirt and wettingherpanties
Posted on 01.24.12
Comments: 7 Comments


Tags: Fay X, Knicker Wetting, Panty Pee, Panty Peeing, Skirt Peeing, wettingherpanties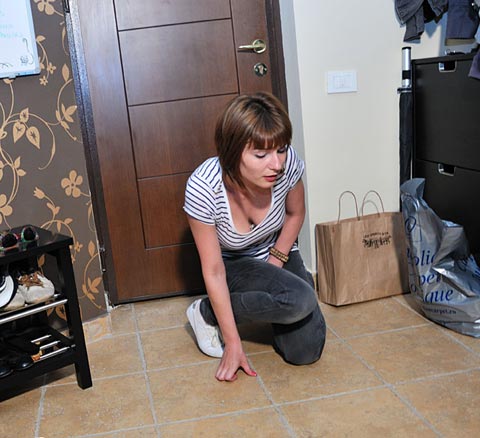 From Real Wetting we have Alice in her jeans. As you must already know I just love seeing Alice from Real Wetting desperate to pee.  Alice always holds on so long till she is really desperate to pee and then when she loses control, she makes such a mess emptying her bulging bladder. This set of real wetting photos has Alice coming home from shopping she is desperate to pee and has only just made it through the door will she make it to the bathroom?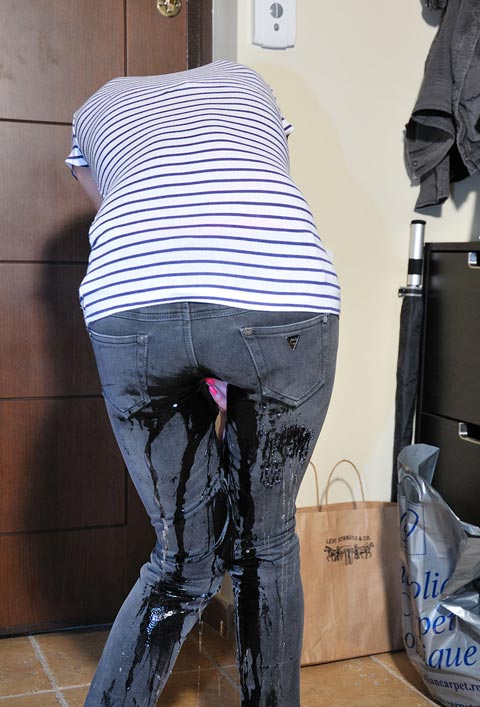 Alice has arrived home and is so desperate to pee she drops her shopping bags and a female desperation spasm makes her crouch down jamming her hands into her crotch holding on trying not to lose control. She stands up buts her desperation is to great and she starts to pee in her jeans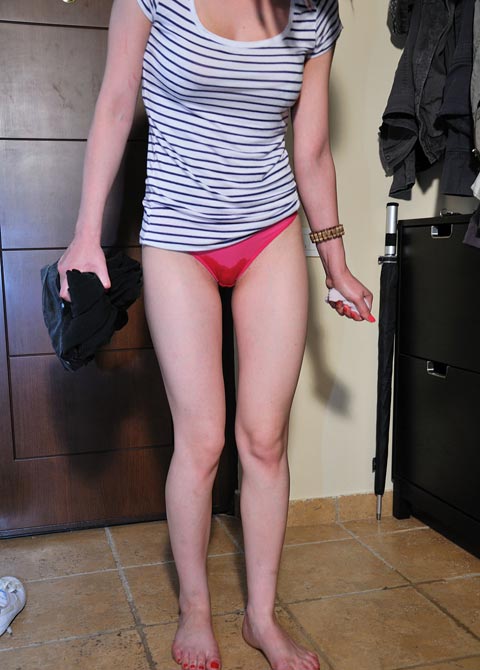 Alice from real wetting has started to pee in her jeans from desperation her piss explodes into her jeans. Alice is peeing in her jeans with such force look at all the rivers of pee that are exploding through the fabric making them shiny this is great. She keeps on peeing and even her shoes are getting soaked she is one sexy piss soaked lady. Female desperation and jeans peeing what more could you ask for? Alice then pulls down her jeans and we get to see her pissed in panties and outline of her pissy pussy. A wonderful female desperation and wetting set from Real Wetting

See Alice Desperate and Jeans Peeing





Filed under: Audreys Wetting Site and Desperation and Female Desperation and Jeans Peeing and Jeans Pissing and Knicker Wetting and Panty Pee and Peeing and Pissing and Pissing In Pants and Real Wetting
Posted on 01.17.12
Comments: 1 Comment


Tags: Alice Realwetting, Audrey's Wetting Site, Desperate To Pee, Female Desperation, Jeans Pee, Jeans Peeing, Knicker Wetting, Panty Peeing, Real Wetting
From Ineed2pee we have two female desperation and wetting picture sets. The first one we have stars ineed2pee  Tori  from Ineed2pee this is the description This is one of the most natural & believable scenarios I have ever seen & filmed period. You really believe she is wasted drunk (which I can assure you she is not because being under the influence while filming this would be illegal) and she really just gives up as soon as she starts uncontrollably wetting her pants. The white pants go see through right away which gives it that extra boost of sexiness!"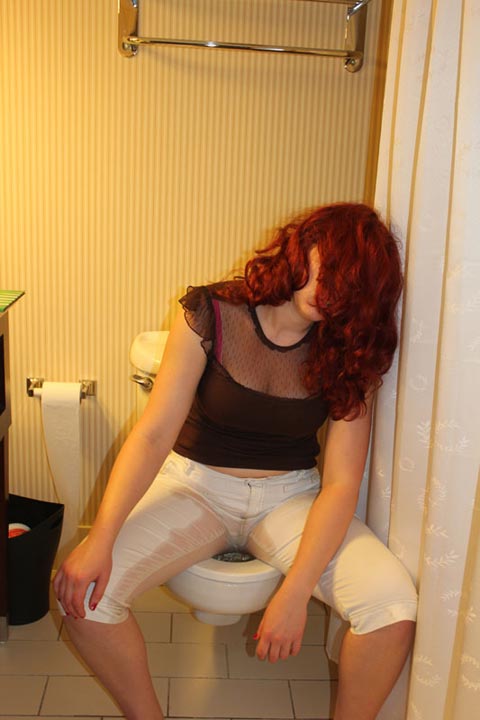 The next ineed2pee female desperation and wetting photo set stars Whitney.  This is the description from Ineed2pee "Whitney is running really late & her bladder is so full it's very difficult for her to  concentrate on her job, which is acting professional & trying to sell you on a condo complex! She's fidgetting like crazy & trying to stay still but you can tell by the way she's sweating that she's probably not going to make it until we get in to the bathrooms… but it's a lot sooner than you think when she freezes in horror as she realises she's pissing herself in front of her client & there's not much she can do. It's a nice natural type of wetting & she acts like if a regular woman wet herself & was trying to conceal it, not contrived or fake hiking up her dress. Enjoy this one!"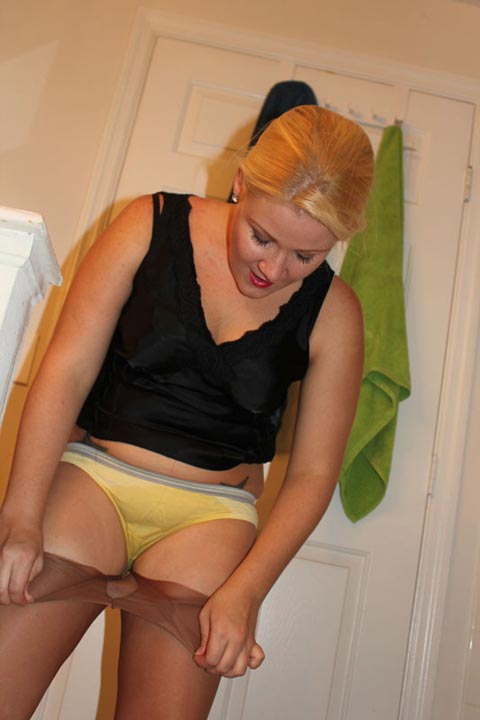 See Set 1 Here and Set 2 Here


Filed under: Desperation and Female Desperation and Ineed2pee and Knicker Wetting and Panty Pee and Peeing and Pissing and Pissing In Pants and Pissing In Skirt and Pissing In Tights
Posted on 01.13.12
Comments: 9 Comments


Tags: Desperate To Pee, Desperation, Female Desperation, Ineed2pee, Ineed2pee Tori, Ineed2pee Whitney, Knicker Wetting, pants peeing, Panty Peeing, pantyhose peeing