Now this has to be one of the sexiest Needapee movies with Rebekah Dee. Rebekah Dee peeing on herself, well I guess it is not that simple. Rebekah has called this piss movie Back Fire Pee and wow it is sexy. Rebecca  lies on her back lifts her legs in the air and moves them so her pussy is facing her she then starts to pee. Her piss starts off a little slow and it is running down to her breasts under her top but then you start to see a little spray of pee till it is spraying out like a pee fountain. I was a little disappointed that the piss stream did not go straight but to the side. It would have been great to see Rebekah's own pee splashing her in her face. I wonder if she would have opened her mouth.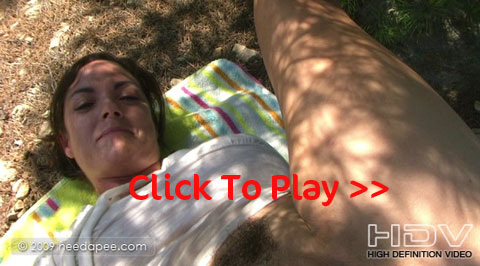 At Needapee Rebekah Dee wrote this about the Back fire pee movie "As I love to keep you guys happy I was only to pleased to oblige with this request to see me pee in a new position. As it is a beautiful summer's day I venture out to one of my favourite spots for public peeing. Laying on my back with legs spread in the air I squirt a fountain of pee that back-fires onto my tits – soaking my top in the process. I have to admit I rather enjoyed the whole experience too!"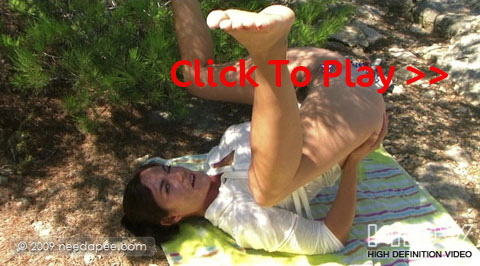 This really is a great Needapee piss movie and be aware that the one you watch here is a lot lower quality that the original 6:9 Widescreen  movie in the members area. If you want to see the quality you get Click Here for a screen shot of this Needapee piss movie in all its glory. Also it is shorter than what you get at Needapee.
Watch this Needapee Piss Movie Click Here
Visit Needapee Rebekah Dees Amateur Piss Site
Click Here

Filed under: Babes Peeing and Movies and Needapee and Outdoor Pissing and Peeing and Pissing and Pissing Movies and Pissing Outdoor and Pissing Videos and Rebekah Dee and Self Pissing
Posted on 02.25.10
Comments: 7 Comments


Tags: Needapee, Pissing Movie, Pissing On Herself, Pissing Outdoors, Rebekah Dee
From wet in public comes this sexy blonde pants peeing movie. She is out walking in the street and looks so sexy in her white pants. But looking at how she is walking you can see that she is a little desperate to pee. There are no toilets around what is she to do its not like she can squat in the street. She then makes up her mind she stops sits on the railing and she is peeing in her pants in public. It is not a great big stream of pee but it is enough I bet her bladder feels much better now and she will have the lovely warm feeling in her pants She really is lovely sitting there in her pissed in pant. She is lucky too no one seems to have seen what she has done how embarrassing it would have been for her if someone had caught her pissing in her pants. When she gets up and starts walking we can see the great big wet pee patch and I bet if she is not careful others will, be able to tell that she has pissed her pants.

Watch this blonde peeing her pants in public
Click Here


Filed under: Movies and Outdoor Pissing and Peeing and Pissing and Pissing In Pants and Wet In Public
Posted on 02.22.10
Comments: None


Tags: Outdoor Pissing, pants peeing, Peeing Pants, Public Pants Pee, wetinpublic
Here we have the lovely Kaz b from wetting her panties she just looks so sexy sitting on the school desk in her dress. She really is trying to hold her pee in she is just jamming her hand into her crotch trying to hold it in. Kaz B then lifts up her dress and puts her hand into her panties. I wonder if she is still trying to hold her pee in or she is just enjoying the desperation and is feeling the first drops of pee. She then releases her bladder and the pee flows into her knickers. She is pissing her panties and what a lovely panty piss it is, from female desperation to knicker wetting look how soaked in piss her panties are they are just dripping. I do love when she bends over and pisses in her panties you can see the pee flowing out but also you get the lovely look where her crotch is encased in her pissy panties, it just looks so sexy and how wonderful would it be to run your had over it and feel the warm wetness. I so love wetting her panties and with Kaz B in her messy pissed in panties you can't go wrong knicker wetting at its best.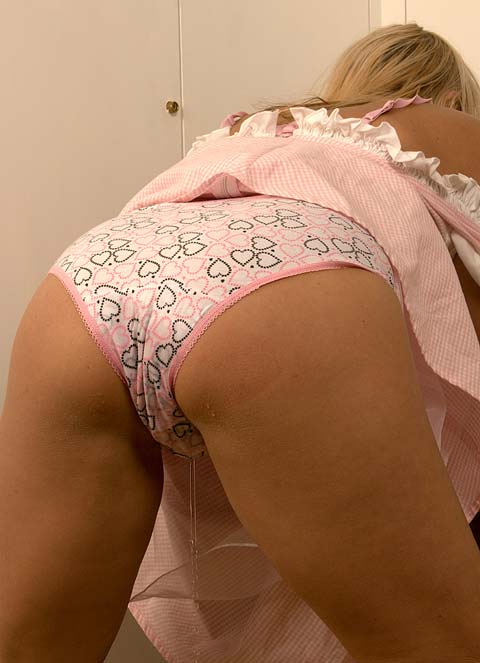 See These Wetting Her Panties Pictures Here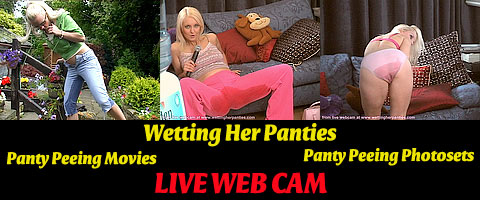 Filed under: Desperation and Female Desperation and Knicker Wetting and Panty Pee and Peeing and Pissing and wettingherpanties
Posted on 02.15.10
Comments: 1 Comment


Tags: Desperate To Pee, Desperation, Female Desperation, Kaz B, Knicker Wetting, Panty Pee, Panty Peeing, wetting, wettingherpanties
From ineed2pee comes this hot cheerleader panty pissing set of pictures. I do love ineed2pee and  their female desperation movies but it is also great when there is some sexy panty pissing and these panty pissing pictures staring the very sexy LilyAnna are just great. Don't get me wrong in the ineed2pee movie there is lots of female desperation and crotch grabbing too but there is wonderful panty pissing too.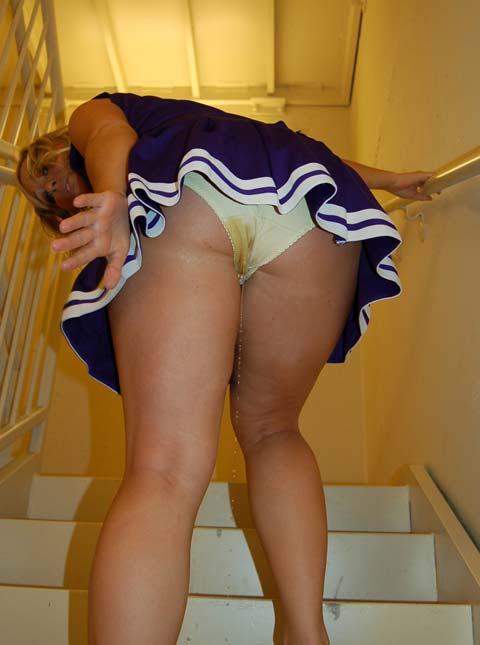 Over at ineed2pee this is what has been written about this female desperation and panty pissing movie "Oh no! You're walking back with cute cheerleader LilyAnna and lo and behold, the elevators at her apartment are broken. So now you must walk up the stairs and it's going to be one exciting & desperate walk. Every so often she needs to stop to press her legs tightly together, so not to pee herself. She's already shy about showing her need to pee in front of you but there is no way to hide it anymore as she's almost pissing her cheerleading uniform… How much longer can she hold onto her full bladder? It's great to hear her sighing and doing the pee pee dance in her uniform. But it will be losing battle…"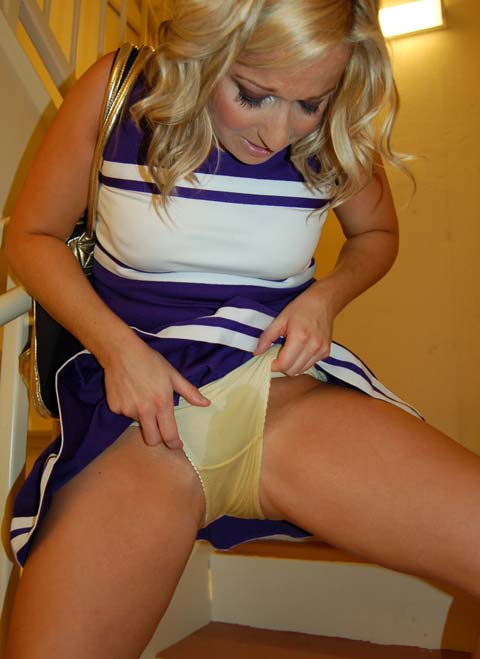 Fun and playful female desperation and panty pissing is what I would call it and LilyAnna  dressed as a cheerleader makes it wonderful. I just love seeing her standing there lifting her cheerleaders uniform to show her yellow pissed in panties.
See lily Anna Pissing in Her Yellow Panties
Click Here


Filed under: Ineed2pee and Knicker Wetting and Panty Pee and Peeing and Pissing and Pissing In Skirt
Posted on 02.09.10
Comments: 5 Comments


Tags: Cheerleader Peeing, Ineed2pee, ineed2pee Lilyanna, Knicker Wetting, Panty Pee, Panty Peeing, Pissing Panty, Skirt Peeing, Uniform pee