Now this has to be one of the sexiest Needapee movies with Rebekah Dee. Rebekah Dee peeing on herself, well I guess it is not that simple. Rebekah has called this piss movie Back Fire Pee and wow it is sexy. Rebecca  lies on her back lifts her legs in the air and moves them so her pussy is facing her she then starts to pee. Her piss starts off a little slow and it is running down to her breasts under her top but then you start to see a little spray of pee till it is spraying out like a pee fountain. I was a little disappointed that the piss stream did not go straight but to the side. It would have been great to see Rebekah's own pee splashing her in her face. I wonder if she would have opened her mouth.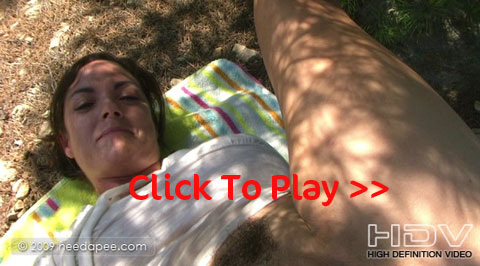 At Needapee Rebekah Dee wrote this about the Back fire pee movie "As I love to keep you guys happy I was only to pleased to oblige with this request to see me pee in a new position. As it is a beautiful summer's day I venture out to one of my favourite spots for public peeing. Laying on my back with legs spread in the air I squirt a fountain of pee that back-fires onto my tits – soaking my top in the process. I have to admit I rather enjoyed the whole experience too!"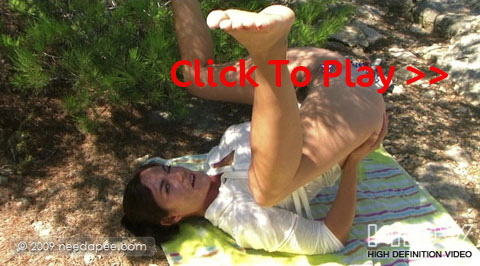 This really is a great Needapee piss movie and be aware that the one you watch here is a lot lower quality that the original 6:9 Widescreen  movie in the members area. If you want to see the quality you get Click Here for a screen shot of this Needapee piss movie in all its glory. Also it is shorter than what you get at Needapee.
Watch this Needapee Piss Movie Click Here
Visit Needapee Rebekah Dees Amateur Piss Site
Click Here