Just the pictures sorry but this is a really hot female desperation movie so the picture quality is not good but the female desperation movie is crystal clear the lovely Rebekah from needapee is on the tennis court. She gets so desperate in this video that you think that her bulging bladder will explode and finally she has no choice and ends up pissing in her panties. It really is hot SEE IT HERE

This is what needapee Rebekah has written about the desperation wetting
I have just started to learn to play Tennis and was practicing my new skills (or not depending on how good you lot are at Tennis!) when i felt the desperate need to pee. The toilet was a 10 minute walk to the gym and back and i didn't want to interrupt my creative flow so i thought i would wait until i had finished. Unfortunately my bladder was not too pleased and decided to get its own back on me and spill all over the courts. With piss splashing down my legs and my nice pink panties all wet i could do nothing other than squat and let it flow. Plus there were a couple of people training on the football grounds outside the courts and i wasnt too happy about them seeing me either
I hope you enjoy the photos as much as I enjoyed the video
The Video I so hot and long too
You can see it by clicking here

Filed under: Desperation and Needapee and Outdoor Pissing and Panty Pee and Peeing and Pissing and Public Pissing
Posted on 02.27.08
Comments: None

Now this looks really hot from realwetting comes Alice and Alice is really lovely. In this new update Poor Alice wakes up and is desperate to pee She gets out of bed but ends up pissing in her blue shorts,. Real wetting has a focus on female desperation and clothes pissing. This is one desperation video that I really need to see. Female Desperation, light blue shorts and then a lovely soggy crotch. At Audrey's Wetting Site this was written about it "She was sleeping, all of a sudden she felt her bladder on the point of bursting. Alice got out of bed and wet herself on the way to the bathroom. Leaving trains of piss on her legs and floor." As you can see from the clip's images the piss makes her shorts semi-transparent showing her soaking wet pussy through the pants.
You can see more photos by clicking here or you can visit Audrey's wetting site by clicking the banner

Filed under: Audreys Wetting Site and Desperation and Knicker Wetting and Panty Pee and Peeing and Pissing and Pissing In Shorts and Real Wetting
Posted on 02.14.08
Comments: None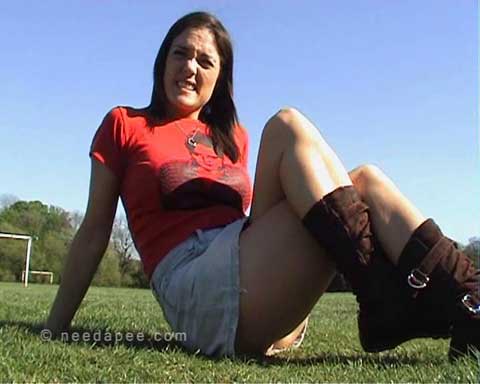 This really is a hot movie from Rebekah at needapee. Here she is in a park desperate to pee and waiting to spray her hot piss stream when a train goes past. It would seem that this was not the best planed thing as Rebekah is really desperate to pee. She sits on her heal to stop realising pee in her desperation. The train finally comes and .. well this is what was written at needapee about it "With the early summer sunshine in its full glory today I went out to indulge in some exhibitionism fun. Desperate to pee I visited a park that runs alongside a busy railway line. Waiting in anticipation for a train my uncomfortable desperation grew. As a train finally passed I pulled my panties to the side and gave the commuters a real treat as I gushed my pee into the summer air for all to see!"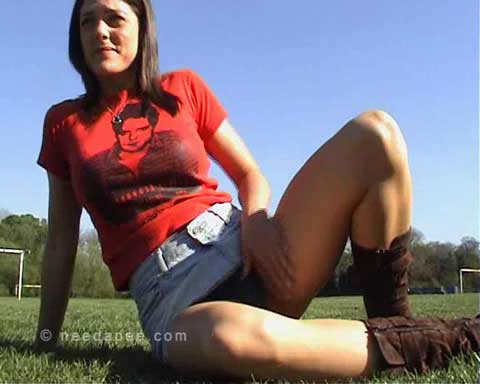 The video has it all female desperation crotch grabbing and finally peeing. Rebekah has such a great website that has everything from female desperation panty peeing pants peeing. I saw a video the other day at the site where Rebekah is standing at a telephone booth and stars to pee in her panties while on the phone, that was great. There also is exhibitionism pissing. Female desperation to exhibitionism pissing you cant go wrong.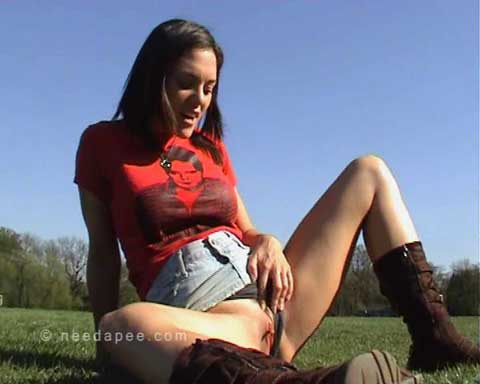 One last thing about Needapee and Rebekah is that she has a live webcam show that is free if you are a member of her site I haven't seen this but I can imagine that it is hot as she is so beautiful but has such a sexy voice too . Click the pictures above or here to see the video and to visit needapee click here
Enjoy Female Desperation And Exhibitionism Pissing From Needapee

Filed under: Desperation and Movies and Needapee and Outdoor Pissing and Peeing and Pissing and Pissing Videos
Posted on 02.09.08
Comments: 2 Comments